The Ultimate Toronto Wedding!
unique-limos-wpadm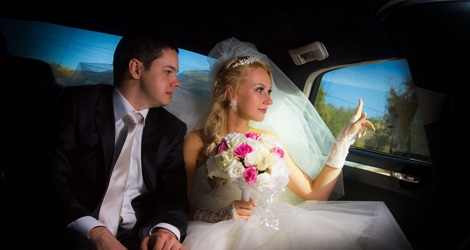 Preparing for the ideal wedding in Toronto often means weeks or months of planning every detail from the design of the invitations and what musical piece to have for the first dance, all the way up to where to go for the honeymoon. All of the laborious work dedicated to creating a flawless, blissful wedding day will result in magical moments that will last a lifetime. One detail that has been found on an increasing number of wedding planning lists is the requirement for transportation of the bride, the groom, and the bridal party throughout the day as people move from one location to another.
Unique Limos is a leading Toronto based company that specializes in elegant upscale wedding limousine services, at competitive rates, in Toronto and all of the neighboring areas. Nothing provides the ambiance of prestige and luxury like a beautiful, shiny limousine. Your limo will have a spacious interior with plenty of open area that will allow the bride's gown to remain wrinkle free and photo ready from the initial pickup, to the ceremony, to the reception area afterwards, and to your final destination for the day. If desired, a personalized limo service can be scheduled for the next morning to take you to any one of the airports in the major Toronto area.
Regardless of how many destinations you will have during the day, you will be quietly and luxuriously driven from one location to the next in the same glamorous style as the deluxe service given to celebrities and corporate executives. You will be pampered with a comfortable, climate controlled interior, extremely relaxing seats, and a well stocked bar area with your favorite chilled beverages and snacks. Depending on your desires, the limo's interior can be decorated in symbols and colors to coordinate with theme. You can sit back and enjoy romantic music from an ultra modern sound system. Your only concern about traffic and road conditions will be when you choose to take in the scenery.
Unique Limos offers a full array of chauffeured limousine packages that will fulfill all of your transportation requirements during your special day. We can service all of your wedding day needs beginning with a small modest five hour limousine service package that can be expanded, all the way up to an all day scheduling of various pickups times and new transportation drop off locations. Your professional driver will ensure that you arrive at each destination on time. Your rides will be cozy, noise free, and relaxing. A wedding is a milestone event with the spotlight appropriately being placed on the loving couple; struggling through heavy traffic can dim the glory of the day and is an easily avoidable situation. Our limo service will ensure that you and your loved one will be where you need to be, when you need to be there. You and your spouse are the shining stars of the day and we serve as your silent supporting cast.